Nothin' says lovin' like homemade treats this Valentine's Day and these cookies are one of my family's favorites! They are a cross between a sugar cookie and a shortbread cookie and they are oh so yummy and PINK!!! I have never tasted another recipe the same as this one and believe me, I have looked! Last February my beloved Sweetheart Cookie recipe went missing and I spent hours trying to replicate them using other recipes I found on line - FAIL! Luckily I came across it over Christmas when I was hosting my
12 Days of Christmas Cookies
. . .
Oh how I love thee Sweetheart Cookies!
2 packages strawberry Jello (3 oz. each)
3/4 butter
1 egg
2 C flour
1 tsp. baking powder
Beat Jello and butter until light and fluffy. Add egg and beat well. Stir in dry ingredients to make a stiff dough. Refrigerate 1-2 hours until dough is very stiff. Roll out onto well floured board and cut with heart-shaped cookie cutters. Bake at 375 degrees for 8-10 minutes.
*Make sure you use regular Jello, NOT sugar-free because the Jello is substituting for the sugar in this recipe.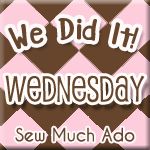 br />